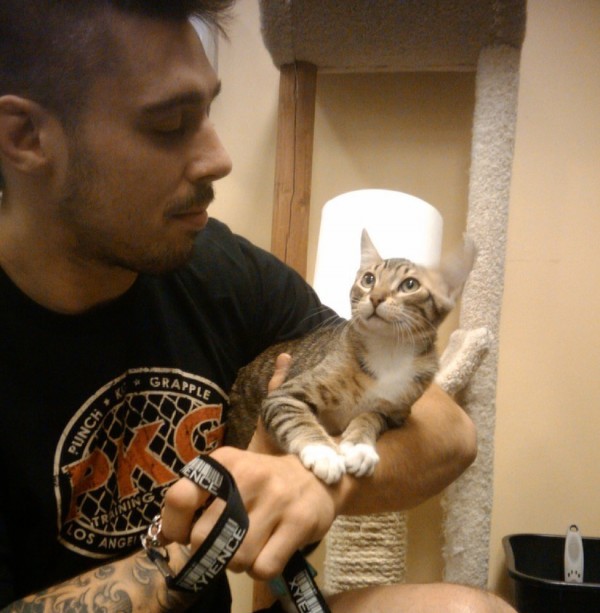 Dan has recently been recognized by animal welfare organizations, for both his courageous stance against recreational hunting and his fostering of homeless cats. The East Lake Pet Orphanage in Dallas, Texas has named Dan the recipient of it's annual "Kramer Award", given in outstanding recognition for animal welfare activism. He will be receiving the award on May 5th, 2012. The award, and others, will be given at East Lake's 10th Annual "Wine on the Roof" Soirée with food, prizes, a silent auction, and more!
Please visit East Lake Pet Orphanage's website for more information: http://www.elpo.org
From the Outlaw:
I am honored to be receiving such an award. I know that many people right now are deserving of such an award, even some other UFC fighters. America is in economic hard times, and unfortunately, pets that were once family members are becoming luxury items that people can do without. Spaying and neutering pets has also dropped on the priority list for a lot of families, which is just adding the problem. We have rescued a few "recession" cats over the past few years. Some were malnourished, and some badly injured. We took them in, fixed them up, and found them homes through friends and social media. I would love to have pets myself; however, my job demands I travel so much, that it wouldn't be fair to an animal. So right now, I am in the process of being an approved foster home for sick cats and young kittens that need socialization. That way, I can at least have pets on an interim basis, while helping the shelters to get them adopted.
East Lake Pet Orphanage is just one of the many shelters across the country that need your help! Although I'm not from Dallas, it doesn't make the animals there any less important. They still need homes and your help.
Cheers,
the Outlaw