Nick Name: The Outlaw

Record: 23 – 7 (win – loss) 1 No Contest

City, Country: Nottingham, England

Height: 6'0″

Weight: 170 lbs

Team: Team Rough House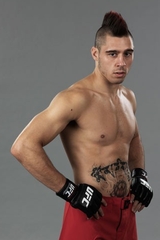 Dan "The Outlaw" Hardy started training at the age of six in Taekwondo. He progressed through to black belt and then started training in different styles and in 2002 he travelled to China to train with the Shaolin monks. He began to cross-train in several styles of martial arts after the realizing the importance of grappling skills in MMA. Since then he has held the Cage Warriors Welterweight World Title and is the current Light-Welterweight Champion and also the UK Storm British Champion. He has fought professionally in America, Europe and Japan.
Hardy signed a contract with the UFC in 2008. Shortly after, he made his UFC debut at UFC 89, defeating Akihiro Gono via Split Decision. He then went on to beat Rory Markham at UFC 95 in the first round by KO with a clean counter left hook. His split decision win over Marcus Davis at UFC 99 gave this rising star what he needed to start breaking through the Top 10 fighters in the welterweight division.
Hardy trains out of the Rough House Gym alongside Paul Daley, Andre Winner and Dean Amasinger. Hardy also spends a lot of time training at 10th Planet Jiu Jitsu (under Eddie Bravo), Xtreme Couture, and the Wildcard Boxing Gym. In his spare time, Hardy enjoys classical cars, hardcore and punk music, and video games.
Result

Loss

Win

Win

Win

Win

Win

Win

Win

Loss

Win

Win

Win

Win

Win

Loss

Loss

Win

Win

NC

Win

Win

Win

Win

Loss

Win

Win

Win

Loss

Win

Win

Loss

Opponent

Georges St. Pierre

Mike Swick

Marcus Davis

Rory Markham

Akihirio Gono

Daniel Weichel

Chad Reiner

Manuel Garcia

Yoshiyuki Yoshida

Hidetaka Monma

Daizo Ishige

Willy Ni

Alexandre Izidro

Danny Rushton

David Baron

Forrest Petz

Diego Gonzalez

Matt Thorpe

Diego Gonzalez

Sami Berik

Lautaro Arborelo

Alexandre Izidro

Stuart Barrs

David Baron

Andy Walker

Lee Doski

Aaron Barrow

Pat Healy

Andy Melia

Paul Jenkins

Lee Doski

Method

Decision

Decision

Decision

KO

Decision

TKO

TKO

Submission

DQ

TKO

Decision

Submission

TKO

TKO

Decision

Decision

TKO

Decision

NC

Decision

TKO

Decision

TKO

Submission

TKO

Submission

KO

Submission

Submission

Decision

Submission

Event

UFC 111

UFC 105

UFC 99

UFC 95

UFC 89

Ultimate Force

Cage Warriors

Cage Warriors

Cage Force

Cage Force

Cage Force EX

Cage Warriors

Cage Warriors

Cage Warriors

2H2H

Fight Fest 2

Cage Warriors

Cage Warriors

Cage Warriors

Cage Warriors

Cage Warriors

KOTC

UK – Storm

Cage Warriors

Cage Warriors

Fight Club UK 1

Cage Warriors

AFC 10

Cage Warriors

FCFN 2

Extreme Brawl 7

Date

03:27:2010

11:14:2009

02:21:2009

10:18:2008

04:03:2008

04:19:2008

12:08:2007

12:01:2007

09:08:2007

05:27:2007

04:28:2007

12:09:2006

09:16:2006

06:18:2006

04:14:2006

03:25:2006

11:26:2005

10:01:2005

09:17:2005

07:16:2005

06:24:2005

06:18:2005

05:21:2005

04:08:2005

01:29:2005

12:18:2004

10:30:2004

09:18:2004

08:14:2004

06:06:2004

Round

3

3

3

1

3

2

3

1

2

3

3

2

3

1

2

5

3

5

2

3

3

2

2

2

1

2

1

1

2

3

2