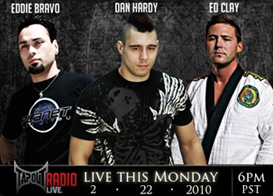 I'll be on TapouT radio tonight 6 pm PST.
Can never tell what kind of craziness with ensue with Crooklyn! But I'm assuming we'll be chatting about post UFC 110 outcomes, my training for UFC 111, and how much I hate dieting. Just a guess. Would love to hear questions from fans in the TapouT radio chat room, too!
Click here to go to TapouT radio.
» Continue Reading...