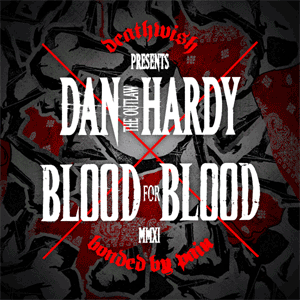 Deathwish are proud to announce an apparel collaboration between rebels from different worlds, Dan "The Outlaw" Hardy and Boston's Blood For Blood. The "Bonded By Pain" collaborative design was created by J. Bannon for Deathwish, and combines the iconic visuals of Blood For Blood and Dan "The Outlaw" Hardy into one simple yet awesome apparel concept.
Pre-order now:
Deathwish Black version (T-Shirt and Hoodie): http://www.deathwishinc.com/estore
Blood For Blood Red version: http://www.allinmerch.com
Dan Hardy Grey version: http://danhardymma.myshopify.com
BLOOD FOR BLOOD
To be from Boston is to have an affinity for Blood For Blood. Founded in the mid 90′s as a rough and tumble band, Blood For Blood violently shook Boston and ultimately the world, from its deep hardcore sleep. In their first formidable years Blood For Blood bonded together hardcore kids, punks, skinheads, bikers, and other social misfits through their gruff working class songs. Establishing an underdog legacy that is now over fifteen years deep and still going strong.
Blood For Blood songwriter and visionary Rob Lind recently stated "…I am presently hoarding the biggest glut of material in my life. And I can't wait to get to work on it." If that's any indication, a new chapter of outlaw anthems are looming on the horizon.
Blood For Blood are scheduled to play dates in the U.S. and Europe throughout 2011. Blood For Blood 2011 consists of the longtime core of Buddha, guitarist Rob Lind, and bassist Ian McFarland, along with drummer Neal Dike. Special guests Billy Graziadei (Biohazard) and Craig Silverman (Only Living Witness) will lend their guitars to live shows in Lind's absence from the stage due to personal reasons.
April 15th - Worcester, MA  Metal Fest / Palladium (USA)
April 20th - Bydgoszcz - Estrada Stage Bar (Poland)
April 21st - Berlin - SO36 (Germany)
April 22nd - Haarlem - Patronaat (Netherlands)
April 23rd - Meerhout - Groezrock Festival (Belgium)
April 24th - Stuttgart - Röhre (Germany)
June 24th - New London, CT - El N Gee (USA)
June 25th - Reading, PA - Tsunami Fest (USA)
June 28th -  Hamburg - Kaiserkeller (Germany)
June 29th - Köln - Essigfabrik (Germany)
June 30th - Göteborg,Valand (Sweden)
July 1st - Sulingen - Reload Festival (Germany)
July 2nd - Roitzschjora - With Full Force (Germany)
DAN "The Outlaw" HARDY
Dan "The Outlaw" Hardy is a world renowned Mixed Martial Artist from Nottingham, England.
Dan "The Outlaw" Hardy is not just a fighter, but also a avid fan of the Punk and Hardcore scene, and even boasts a Blood For Blood tattoo. Marching to the beat of his own drum, Hardy became a professional fighter in 2004, establishing himself in Japan and England. Carrying a brash attitude and hardcore spirit, Hardy became the final Welterweight and Light-Welterweight champion for the respected Cage Warriors promotion. In 2008, he made his debut for the UFC, taking a decision win against the Japanese star Akihiro Gono. Although Hardy was considered an underdog in most fights, he went on a tear within the UFC, racking up five high profile wins in a row. This earned Hardy a title shot against Welterweight Champion and "pound for pound" king, George St. Pierre. Hardy went the distance with the champion, giving him the fight of his life for five stellar rounds.
Since then, Hardy has continued to fight for the UFC as a fan favorite and warrior for common people everywhere.
Blood For Blood Website
Blood For Blood Facebook
Blood For Blood Twitter