12
Jan
2010
Great film about a celebrated British punk rock legend
Posted in Blog by Dan |
Occasionally, I take a break during camp, and go to the cinema. Went to see Sex & Drugs & Rock N Roll last night, about the life of Ian Dury, founder and front man of Ian Dury and the Blockheads. Always loved this band: "Hit Me With Your Rhythm Stick", "Reasons to be Cheerful" and the rock and roll anthem "Sex and Drugs and Rock and Roll" are brilliant songs!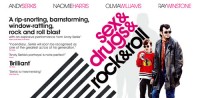 You don't need to know anything about Ian Dury's music to see this film, it's entertaining, great music, and lots of memorable lines from the late front man. The film mainly follows Dury's relationship with his father and family and then his rise to fame as a musician. It's colorful and splendidly done with lots of punk rock imagery and great reenactments of on-stage performances. Andy Serkis, you might know him from Lord of the Rings, plays Ian Dury and even re-recorded some of the songs with the original members of the Blockheads. It gave me a whole new perspective on Ian Dury's life and his music.
Four stars out of five from the Outlaw.
"There are a couple of ways to avoid death, be magnificent." - Ian Dury